Financing a Franchise in Canada: What are your options?
🕒 Estimated Reading Time ~ 14 minutes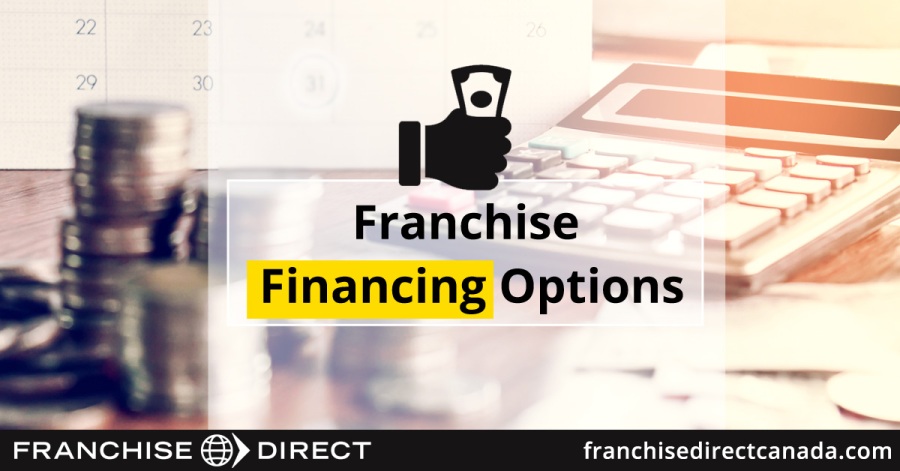 As a prospective franchisee, you have a lot of decisions to make. Which industry do I want to be in? Which franchise in this industry looks best for me? Etc.
Another big consideration you have: How am I going to pay for this venture? The average amount required to launch a new franchise is approximately $350,000 – though there are several options that cost much less to start.
Low Cost Franchises
Before you begin searching for money, however, you need to gather some personal information to make the process go smoother.
Preparing to Meet with Potential Lenders
Before meeting with any potential lenders, there are some background documents you should prepare in advance. Preparing these documents beforehand will help expedite the process as well as show the lender that you are a responsible individual that has put some thought into this endeavor. Lenders strive to take on low-risk investments, so show them how prepared you are.
Before contacting potential lenders, some items you should gather or prepare are:
A resume covering your educational and work history
Your proof of residence
Your personal and business financial statements for at least the last year
Your tax returns for the previous three years
Your credit report
A complete business plan
Credit Considerations
A large portion of your financial background preparation will be covered in your credit report.
Credit reporting companies serve as repositories of information about an individual's payment history along with their job and residency history. The two major credit bureaus in Canada are Equifax Canada and TransUnion Canada. There is also Dun & Bradstreet, for business credit reporting.
It's a good idea to review your credit report before lenders do as information can differ between companies. You can obtain your credit score by contacting any of the credit bureaus directly. You are entitled to receive a free copy of your credit report once a year, upon request.
As you consider what lenders are looking for when making their decision, use the "5 Cs of Credit" as a guide:

Character: What does the lender's think about your general trustworthiness, credibility and personality? A big component of this is: Do you have a good history of paying your loans on time?
Capacity: How likely will you be able to repay the loan with the franchise you are asking for money to open?
Capital: Are you asking for all of the money to start the franchise or a partial amount?
Conditions: What are you going to use the funds for? Also considered will be the general economic environment along with industry trends and how these factors might affect your ability to repay the loan.
Collateral: Will the loan be secured or unsecured? If secured, what are you pledging ownership of that has value if you were to default on the loan? What assets do you have that can help repay the loan in the event of a default?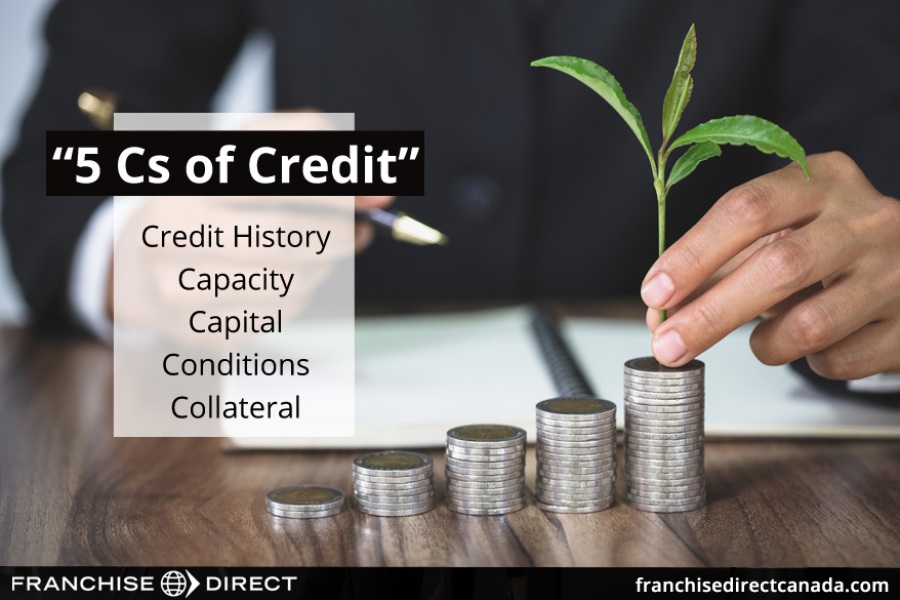 The Business Plan
Another important component of gaining funding is the business plan. Lenders use a business plan as a guide to assess whether the prospective franchisee/borrower is serious about the process and is on a path towards success and profitability.
Typical parts of a business plan include:
An executive summary: An overview of the business plan and the goals you have for the business. Many have found it best to write this summary last, even though it's presented first.
A company (in this case franchise) description: Describe the franchise you want to open in detail.
Market analysis: Tell about the business industry the franchise is a part of with special attention paid to how it will benefit your specific area. Outline your competitors and how you fit into the big picture.
Management structure: Who are you as a business person? Give some background in this section. If franchise ownership is going to be a group effort, outline the organizational chart and who will play which role.
Description of product or service: What are you selling specifically?
Marketing and sales plan: How are you going to get people to know you exist? How are you going to get them to buy from you?
Financial projections: This section should include at least a cash flow statement detailing your needs now and into the future, and revenue projections for at minimum the first year of operation.
Funding request: Lay out a comprehensive statement of how much money you will need from the lender, including best estimates on when it will be paid back.
Appendix: The appendix serves as the location of items that don't fit into any other section, but you feel are important to show lenders to give them a full picture of you and your goal. Items such as resumes, any media clippings you might have, and pictures of potential sites can be here.
Here is where becoming a franchise owner can be especially handy. Several franchisors actually provide assistance with developing a business plan, so check with them first.
In addition, much of the information needed can be found in the Franchise Disclosure Document (FDD) that many provinces require be supplied to you. Some franchisors will even disclose potential earnings figures based on historical results from franchisees in the system. However, some will not provide data on future potential earnings because of potential complaints that franchisees might lodge if they don't achieve those projections.
Common Sources of Franchise Financing
Bank Loans
Franchisees generally have an easier time securing a bank loan than independent business owners because of the established background of their franchisor. But that doesn't mean that bank loans are simple to get.
The key to getting a commercial bank loan, no matter the type, is to be prepared with a sound business plan (as noted above) and all of the information required for the lender to make a decision. Don't forget to shop around for the best loan package you can get as well. Often banks will vary in not just how much money they're willing to loan, but with the interest rate they quote too.
Popular types of business loans from banks include the following:
Term loans: The lender gives you a set amount of money upfront, and you pay back the money on an agreed upon repayment schedule with interest.
Business lines of credit: The lender gives you access to a specific amount of money that you can draw from at any time as needed. Lines of credit can be fixed or revolving. With revolving credit, the amount resets after you pay your balance in full (much like a credit card).
Equipment financing: An asset-based loan used for the machinery and equipment needed to run the business. Commonly, the equipment purchased will serve as the collateral for a loan instead of personal property.
Commercial real estate loans: Another asset-based loan. This one is specifically for acquiring commercial property such as a retail shop or office building. Similar to equipment financing, the property acts as collateral for this type of business loan.
Personal loans for business use: These are loans based solely on the borrower's personal finances and credit, so your personal credit score will be extremely important.
When you take out a loan, the lender may allow you to borrow the money without securing it. In this case, you don't have to put anything up as collateral (i.e. something the lender can potentially take) in the event you can't pay back the money. On the other hand, the lender may require that you use an asset as security for the loan, which would make it secured.
The secured loan most Canadians are familiar with is using their home as collateral to gain funding from a traditional bank.
If you're a homeowner, home equity financing is one of the fastest sources for funding available. There are two kinds of home equity financing: home equity loans (sometimes called a HEL), and a home equity line of credit (also known as a HELOC). Both of these are considered a second mortgage.
A home equity loan has a fixed rate and fixed monthly payments are made until the total amount has been paid. With a HEL, the money is given in a lump sum. Once the borrowed money is paid off, you cannot get a home equity loan again. As for a HELOC, the money doesn't have to be given all at once. You can borrow funds in increments up to your credit limit.
Many financial experts suggest only borrowing a portion of the available equity and leaving some of your home's value intact. Most lenders operate within a credit limit on a home equity line by taking a percentage (for example, 75%) of the home's appraised value and subtracting from that the balance owed on the existing mortgage.
In addition to the above, there are other bank loan options out there for prospective franchisees.
The Business Development Bank of Canada (BDC) offers a wide variety of loans, grants and other financing options to both experienced and new entrepreneurs. Notably, the BDC is a Certified B Corporation, meaning that it is a business that acts in a way that demonstrably benefits society rather than focusing solely on making profits.
For new businesses, the BDC provides funds to help Canadian businesses that are "in the start-up phase who have been in operation for at least 12 months and have generated revenues [to] turn their business ideas into reality."
In addition, the BDC also has some of their programs targeted at specific demographic groups, such as indigenous Canadians, recent immigrants, and women developing or marketing certain "cleantech" options.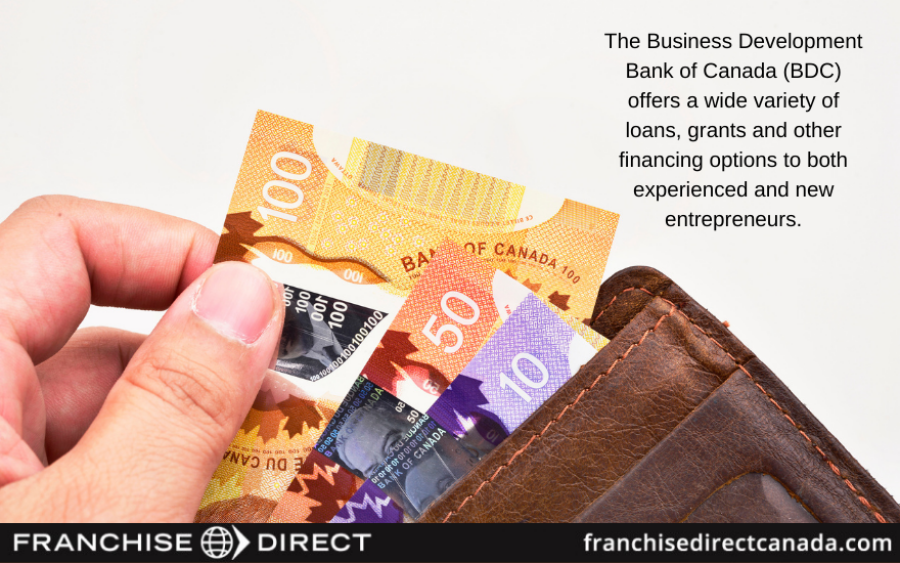 Government Backed Programs
One of the most popular ways for Canadians to finance their own business is borrowing through The Canada Small Business Financing Program, which is designed to make it "easier for small businesses to get loans from financial institutions by sharing the risk with lenders."
Borrowers apply for a loan just as they traditionally would with any bank, caisse populaire, or credit union in Canada. The financial institutions then, according to their standards, approve or deny the application under the program.
If approved, the financial institution will register the loan with Innovation, Science and Economic Development Canada and disburse the funds to the borrower.
Also, to help small and medium sized businesses adapt digitally, the Government of Canada announced the $4 billion Canada Digital Adoption Program (CDAP) in Budget 2021 to help get people get their business online, give their e-commerce presence a boost, or help digitize their business's operations.
You can also find the right programs for your unique situation by utilizing the Business Benefits Finder. To use the finder, go to the webpage and enter a little about your situation via the prompts. Once entered, the webpage will display options tailored to your inputs.
Franchisor Financing
Your future franchisor can be a source of more than just a way to do business too.
While still not offered by a majority, more franchises are providing financing assistance to franchisees to combat tight lending environments. According to Loans Canada, these are some types of financing franchisees can expect from their franchisor:

Franchisors typically have loan and financing plans set up to help new franchise owners with the purchasing of all the necessary items, either in-house or through a third-party.
Some franchisors will only finance parts of the start-up cost.
If they provide financing, franchisors often cover the costs of the equipment and other necessary items like signs and fixtures. As Loans Canada says, "these items are requirements for the proper running of their company and therefore they'll want you to make the appropriate choices."
Don't be surprised to find that a franchisor has deals set up with leasing companies so that new franchise owners can get the equipment they need at a discount price.
Many franchisors won't actually lend principal but instead will finance start-up costs and then ask for interest on sales.
Some franchisors will only ask for payment after the franchise has been open and running for a year, while others will finance everything and then ask for a large payment after five to 10 years.
Retirement Account
Yes, you can use some of the money you have earmarked for retirement to open a franchise.
The two principal retirement accounts in Canada are a Registered Retirement Savings Plan (RRSP) and a Tax Free Savings Account (TFSA). According to QuickBooks, "funding your small business with money withdrawn from your TFSA generally poses less of a financial risk." This is because the RRSP has tax penalties ranging from 10 to 31%, for early withdrawals, while the TFSA doesn't have withdrawal penalties that an RRSP does. In addition, any withdrawals made from a TFSA can be replaced in later years, as long as it falls within contribution limits.
Angel Investment
Angel investors are individuals who privately invest their own money, sometimes time as well, in a business in exchange for equity. According to the National Angel Capital Organization (NACO), the number of angel investors in Canada ranges anywhere from 20,000 to 50,000.
If interested in an angel investor relationship, an accelerator is a good place to start. Business accelerators are programs that give new entrepreneurs and new companies access to mentors, investors and other support. Here is some more information on business accelerators in Canada.
Like any other means of obtaining funding, be sure to prepare your documentation prior to a meeting with an angel investor. Experts recommend having financial statements, including any outstanding debt as well as the ownership and legal structure of the company ready for presentation.
Friends and Family
How about family? Some franchises are financed via "love capital" as it is described by some. There are several advantages to getting money from a loved one. For one, you don't have as much bureaucracy to wade through. You also likely won't have to worry about putting up collateral, and payment terms are probably going to be more flexible.
On the flip side, when borrowing from family, or friends for that matter, you're not building up your credit history, which could hamper your efforts to obtain capital from institutions in the future. Also, would you have to give up an ownership stake in exchange for the money? How would you have to heed the family member's opinion on your franchise operation even if they don't have an ownership stake?
If using a monetary gift from family, be sure to treat it formally—even if the family member or members protest. Making the arrangement formal can potentially save you from headaches and heartache down the road.
Making a familial lending situation formal involves creating a loan agreement. A loan agreement crystallizes the legal obligations of each party. In this case, the family member or members who are lending you money and you as the business owner.
A loan agreement should include the loan amount, the length of the loan (if applicable), the interest rates (if any), the agreed upon repayment schedule, and any other relevant information just like documentation from a "traditional" lender.
According to Suzanne llanera of Camino Financial, "Having a loan agreement in place can save you a lot of trouble in the long term, especially if you fail to pay off the loan or if any family member demands something that wasn't agreed upon at the beginning."
There are numerous templates of family loan agreements online that you can use as a guide.
Online Marketplaces and Intermediaries
Nowadays, prospective franchisees can link up with lenders online. A popular one of these sites is Boefly.
After creating an account, borrowers on Boefly create a loan request that is matched to "compatible lenders" from the system's 5,000 lenders and banks. From there, the borrowers and potential lenders make contact with each other, eventually completing the loan process.
Remember financing your franchise won't only be about the money to start your business.
It's also important to make sure you have the funds available to you to maintain your lifestyle as the franchise gains its ability to make a consistent profit. You should also have some money available to inject into the franchise if sales fall short of projections—or unexpected circumstances arise.
Or, put more simply by Muhammad Saqib, Manager at BDC's Entrepreneurship Centre in Mississauga, Ontario, "You need money set aside either through your own equity position or the banks. Availability of sufficient funds is key" for a successful franchise venture. As he cautions new franchisees, "Not incorporating enough working capital into your project costs is one of the reasons many franchises fail."